Our Dietitian will provide you with strategies to help you live a healthy life. Tony will give you the counseling you need, no matter if its Medical Nutrition Therapy for disease states or just for wellness, weight loss, or even healthy weight gain. As a Registered Dietitian, he uses evidence based practice and his philosophy is that no food should be labeled as a "bad food". Tony will help you make food choices based on foods that you enjoy. Together, you and Tony will go over calorie and nutrient needs as well as strategies to push through barriers that will help you live your best life.
Meet Our Dietitian
Tony Dellorso II, Registered Dietitian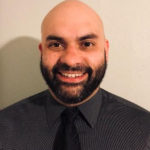 Tony is a RD that currently practices as a clinical dietitian at LewisGales Hospital Montgomery and LewisGale Hospital Alleghany providing Medical Nutrition Therapy for both inpatient and outpatients. He is originally from the Hampton Roads area of Virginia, but has lived in the New River Valley for the past 17 years. Tony earned his Bachelor of Science in Nutrition and Dietetics from Radford University and completed his accredited supervised practice dietetic internship through Virginia Tech. He completed rotations covering acute care, diabetes counseling, and food service management. He is a member of the Academy of Nutrition and Dietetics and also a member of the state chapter and local southwest chapter of the academy.