Our rehab specialists will help you balance your musculoskeletal system through corrective movement and exercise that may be the cause of any dysfunction. They are experienced in looking at the body as a whole unit to get you to the best state. You'll learn about muscles you didn't even know existed and their role in keeping you moving. Our bodies were meant to move, so let our rehab specialists get you back to moving!
Did you know that 75% of patients that complete a round of Physical Therapy do not continue their exercises at home?  Wouldn't it be fantastic to have a team of professional trainers to keep you on task, set personal goals, and keep up your fitness routine? We are here for you!
Our Rehab Specialists
Dave Cecchini, Owner, Exercise Physiologist, ACSM Certified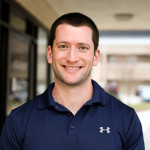 David grew up with a love of exercise and fitness. He takes a holistic approach to exercise centralized around corrective exercises, functional strength, and balance. He believes that exercise in addition to being beneficial, can also be enjoyable. David enjoys getting to know people and designing exercise plans to uniquely fit each person's needs and goals.
David attended Liberty University where he earned a Bachelor's degree in Kinesiology with a focus in Exercise Science. He also is a Certified Exercise Physiologist (ACSM EP-C) through the American College of Sports Medicine. He has experience in physical therapy and formal training in working with special populations, strength and conditioning, weight loss, and general fitness. David enjoys hiking, gardening, and spending time with his family. 
Ben Batman, NCSF Certified Trainer
Ben is a recent graduate of Virginia Tech with his Bachelors of Science in Clinical Neuroscience and a minor in Chemistry. Future plans include going to medical school to become a Primary Care Physician, tying in his knowledge and love of fitness and nutrition into his practice as a doctor. Ben lives by the phrase "control your exercise, nutrition, sleep, and chronic stress and you can mitigate many of the problems you would otherwise experience in life".
Ben is a certified personal trainer through the NCSF with over 3 years experience as both a personal trainer and personal trainer supervisor for Virginia Tech Recreational Sports.  He holds a host of other certifications such as USAW level 1, ACE Fitness Nutrition Specialist, and NCSF Low Back Disorders. Ben has experience in advanced calisthenics, weight loss, strength training and working with geriatric populations. His future challenges may include doing American Ninja Warrior while maintaining a fitness YouTube channel, Batman Fitness and Strength.