Our rehab specialists will help you balance your musculoskeletal system through corrective movement and exercise that may be the cause of any dysfunction. They are experienced in looking at the body as a whole unit to get you to the best state. You'll learn about muscles you didn't even know existed and their role in keeping you moving. Our bodies were meant to move, so let our rehab specialists get you back to moving!
Did you know that 75% of patients that complete a round of Physical Therapy do not continue their exercises at home?  Wouldn't it be fantastic to have a team of professional trainers to keep you on task, set personal goals, and keep up your fitness routine? We are here for you!
Our Rehab Specialists
Dave Cecchini, Owner, Exercise Physiologist, ACSM Certified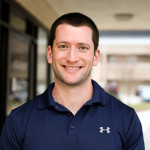 David grew up with a love of exercise and fitness. He takes a holistic approach to exercise centralized around corrective exercises, functional strength, and balance. He believes that exercise in addition to being beneficial, can also be enjoyable. David enjoys getting to know people and designing exercise plans to uniquely fit each person's needs and goals.
David attended Liberty University where he earned a Bachelor's degree in Kinesiology with a focus in Exercise Science. He also is a Certified Exercise Physiologist (ACSM EP-C) through the American College of Sports Medicine. He has experience in physical therapy and formal training in working with special populations, strength and conditioning, weight loss, and general fitness. David enjoys hiking, gardening, and spending time with his family. 
Zane built most of her professional practice in the UK, gaining diplomas in Level 3 Personal Training, Level 2 Fitness instructing, and Level 3 Mat Based Pilates. She has worked in many different locations and settings, encountering all levels of fitness, conditions, and walks of life. Her yoga qualifications include Integral Yoga Hatha Level 1 and Yin Yoga. Being from Blacksburg, Zane has a natural love for the outdoors and the Blue Ridge Mountains. In her free time she enjoys hiking, swimming and enjoying nature with her dogs and chickens.
Toni Aguiar, Rehabilitation Specialist
Toni is a rehabilitation specialist with a background in physical therapy, dance, yoga, pilates, exercise and aquatic fitness. She graduated from the University of California, Santa Cruz with a Bachelor's degree in both Fine Arts and Theater Arts Dance. She also received an Associates degree in the Physical Therapist Assistant Program from De Anza College in Cupertino, California.
Toni has worked with a wide range of clients and conditions, specializing in chronic pain, soft tissue injuries, orthopedic & sports-related injuries, women's health, pelvic pain, as well as providing bodywork for stress relief and gentle relaxation.
Toni is dedicated to helping clients improve the quality of their life through focused education, exercise and therapeutic bodywork that facilitates health and well-being. She has over 30 years experience of massage education with extensive training in a variety of manual techniques including NKT (NeuroKinetic Therapy), Deep Tissue, Myofascial Release, CranioSacral Therapy and Lymphatic Drainage. Toni is a creative soul with a passion for art, music, photography and design. She enjoys spending time with her husband and 4 dogs, biking, dancing and working in the garden.