Let's face it–unless you're a physiologist or you've seen one, it's hard to know how to have perfect posture. I'm Ethan over at Valley Active here to break it down in terms you'll understand.
Perfect posture means you operate in such a way that you use your muscles correctly. Your muscles are attached to your bones and move them around in a range of motion (ROM), which is fixed. Make a big circle with your arm! You've just tested your arm's ROM. Make another circle with your arm. The awareness of the position of your arm as it goes around the circle is your proprioception.
At first is may seem silly. You've been moving around your whole life, how could you not know how to do it correctly? By having a strong awareness of how your body is positioned, it becomes a simple matter to align yourself correctly to achieve perfect posture. Proprioception also involves an understanding of how the muscles are best used. For example, the bicep muscle in your arm is used in a movement called flexion, which is when you decrease the angle of your elbow join. The opposite movement, called extension, is handled by the tricep muscle.
I won't go into the details of the function of every muscle in your body, but there are key points you must know. Pain caused by poor posture is due to an imbalance of opposing muscles (like the bicep and tricep). Overly strong and inflexible hip flexor muscles (iliacus, psoas, tensor fasciae latae, etc.) cause pain by pulling on your pelvis bone and rotating it anteriorly. This causes your hamstrings to be overly stretched and weakened, and your lower back to be squeezed tight like an accordion that can't be compressed any more. Most people feel this pain in their lower backs. This anterior pelvic tilt causes your lower back to overly extend, causing your glutes to stick out behind you and your hips to hurt. This is called lordosis and you can get it by sitting for too long every day.
Here you can see me in a lordotic posture. With too much sitting down, the hip flexors, hamstrings, and lower back get unusually tight (shown in red). This causes the abdominal muscles and the glutes to become weak (shown in yellow). Notice how my belt is tilted down, aligning with the green line. This shows that my pelvis is anteriorly rotated and not in good posture. Good posture is shown with the blue line and the second picture.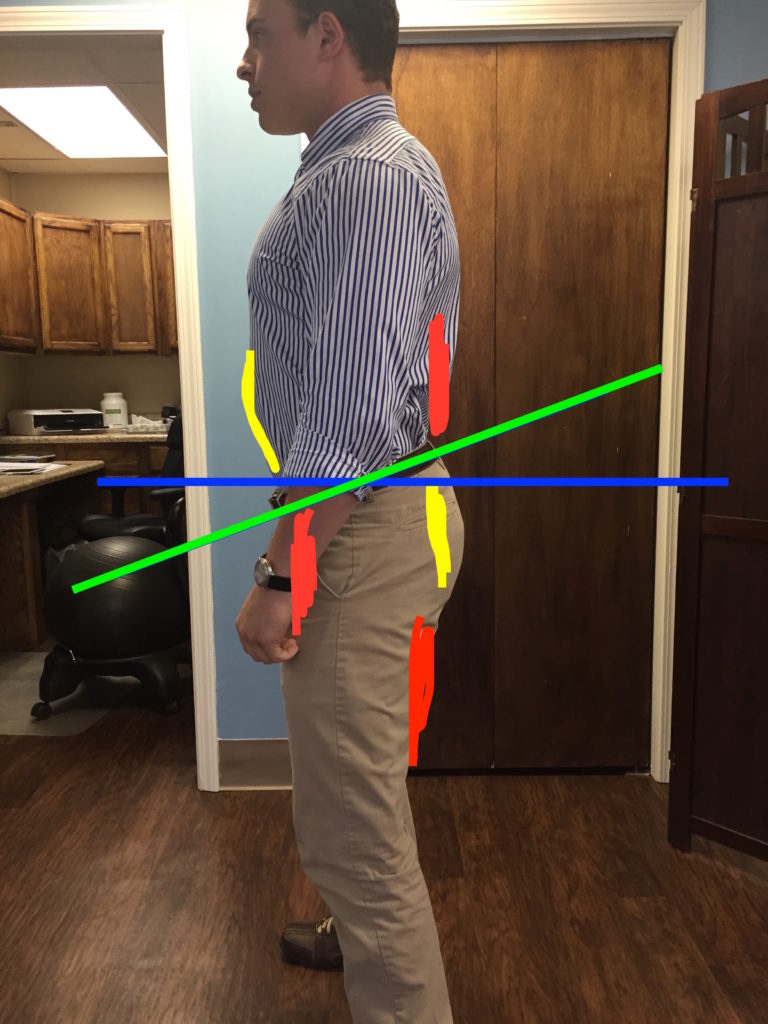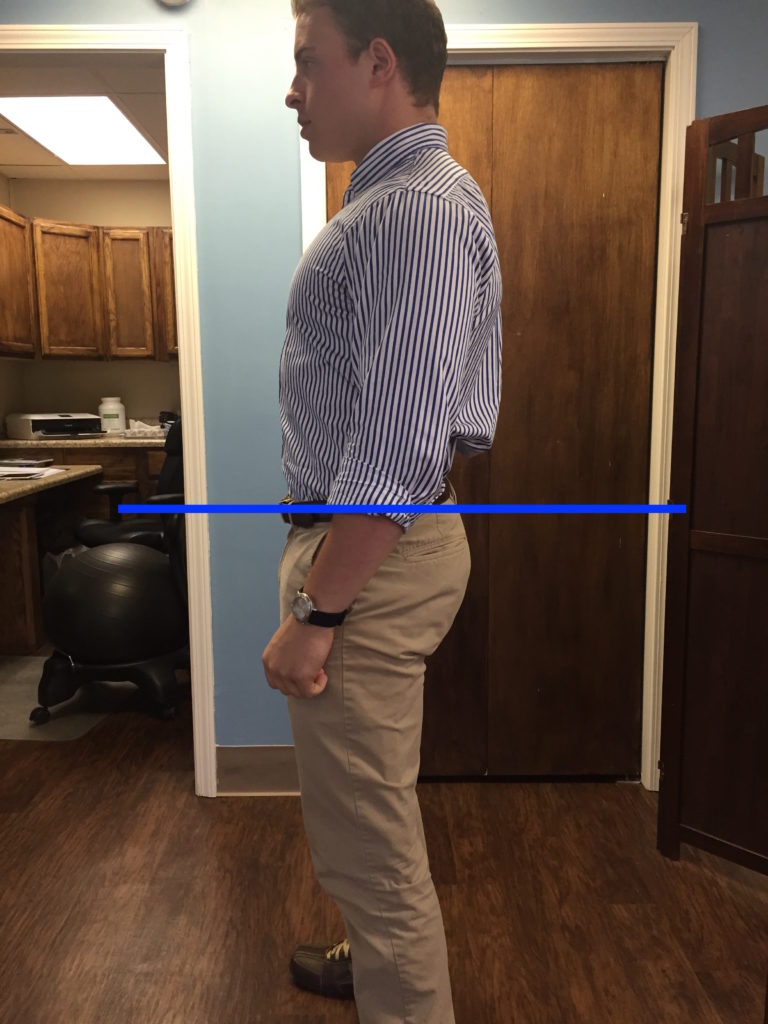 By understanding what makes up good posture and having an awareness of body position, anyone can become comfortable with perfect posture.