Stress: we've all experience it from time to time. Stress can be generated by many things, both good and bad. Problems arise when we can no longer control the stresses and we end up stressed all the time as one irritating event rolls right into another. When stress becomes chronic, we stop feeling stressed and the condition recedes to the background where it is present without us even knowing it.
Signs that your stress has become chronic:
Headaches, neck and back pain
Fatigue and lack of interest in things you once enjoyed
Digestive disturbances like heartburn, indigestion & gas
Sleep problems & an inability to concentrate
Frequent colds & infections as well as allergies
Feelings of anxiety & sadness
Irritability or mood swings
Anger & over-reacting to minor annoyances
Besides the outwardly signs of stress, having chronic stress can adversely affect your health. When we experience chronic or underlying stress, we produce more stress hormones such as cortisol. Having too much cortisol in our systems over a long period of time can cause damage to our cardiovascular system as well as pulmonary, endocrine and immune systems.
According to Dr. Brent Bauer, MD, FACP, director of the Complimentary and Integrative Medicine Program at Mayo Clinic, Rochester, MN, Massage Therapy is an important part of treatment for people seeking relief from stress and stress-related conditions. He suggests a 4-part approach to achieve overall health and wellness.
Dietary changes. Avoiding processed foods and making whole foods a major part of your diet by increasing your consumption of vegetables, fruits, nuts and legumes as well as limiting foods that are high in sugar.
Exercise more. Try to get at least 45 minutes of moderately high intensity cardiovascular exercise each day. Remember, if you enjoy the activity, you have a better chance of sticking with it.
Manage your stress. By acknowledging that you have stress and taking the steps to release it, you avoid the condition of chronic stress. Some examples of activities that reduce and eliminate stress are: massage therapy, yoga, meditation, tai chi.
Connecting with family and your community. This can be something as simple as making time to play board games with friends or hiking with your family. People who express the most benefit also volunteered in their community.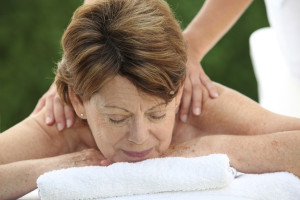 There are numerous benefits of getting Massage Therapy to treat stress and stress-related conditions. It is a non-pharmaceutical intervention that has both short-term and long-term benefits. Massage can decrease anxiety as well as lower cortisol levels and heart rate, which all contribute to a sense of well-being and relaxation. In addition to these benefits, massage also relaxes tense muscles, relieving headaches and discomfort of the neck and back. Clients find that these effects can be continuous if they make a weekly massage therapy session part of their routine.
Some professions are more susceptible to chronic stress and include care givers, healthcare professionals and people with other chronic illness or disease. Many medical professionals realize the importance of integrating massage therapy into the traditional healthcare setting both for themselves and for their patients.
Click here to schedule an appointment for Massage Therapy.  To speak with our Massage Therapist, please call 540-750-1095.
Thanks!
Barbara